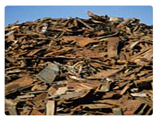 Aggregated Periodic Scrap Sale is one of the most successful business offerings of Synise Asset Management Services, where 100% seller expectations are met. We offer end-to-end services, once the annual contract is signed with the seller. Synise conducts Online Dynamic Auctions on an ongoing basis for their recurring, manufacturing scrap for a specific period as decided by seller. After the auction the rate is fixed for that period and the H1 bidder lifts the material from the seller's premises as per the schedule. Market Making Services involves identifying bidders and training them for participation in the auction.
With the participation of new as well as existing bidders and because of dynamism created due to internet auction bidders end up giving the real market rate which is usually 5 - 10% more than what is achieved in a physical auction. A key account manager is appointed for each seller who works hand in hand with the seller ensuring prompt payment by the buyer and lifting of the scrap in the specified time frame.
The process is totally transparent and allows all participants to keep a track of the highest bid and respond in real time, dynamic fashion.
Our Asset Intelligence team also keeps the seller informed of the market trend for recurring scrap and advices them on the right time for the auction of such scrap thereby, ensuring better results.